WELCOME TO BIRDEE AND THE BEAT Check out latest interview with fashion designer Geoffrey Mac  Email birdeebow@gmail.com for interview inquiries.
21 tags
Interview with Fashion Designer GEOFFREY MAC
Photo from geoffreymac.com Geoffrey Mac is an award winning fashion designer with an eye toward the future & a passion for the past.  His phenomenal creations have garnered  appearances in such publications as Rolling Stone, V, WWD, Billboard.com & US Magazine, Glamour, NYLON & more.  You've seen his artistry on the likes of Lady Gaga, Kesha, Britney Spears, BLONDIE, Sharon...
17 tags
Interview with Dolphus Ramseur of Ramseur Records
Dolphus Ramseur is the record exec. you oughtta know.  His steady, tried & true commitment to musical acts in the Americana/ Roots genre is gaining much deserved attention across the globe.  With the colossal success of such acts as The Avett Brothers, Dolphus Ramseur is a man on a steady mission.   I'm not sure WHEN or IF the following Ramseur words have ever been spoken by ANY other...
7 tags
Interview with JUSTIN HOPKINS of NBC's THE VOICE
Your first introduction to the smooth sounds of Justin Hopkins was more than likely during his competitive rounds on NBC's THE VOICE, but rest assured, it will NOT be the last. I caught up with the multi-talented performer whose baby face & velvet pipes won  the hearts of America. Spoiler Alert: he has no interest in borrowing Christina Aguilera's Disco Style Fascinator...
11 tags
Interview with Sara Haines of NBC's TODAY Show
She is instantly recognized as the woman who keeps the laughter flowin' during the 4th hour of  NBC's The TODAY SHOW with Hoda & Kathie Lee (klgandhoda.com).  Sara Haines is a contributing correspondent for NBC News Today & a small town Iowa girl who went for her dreams in a BIG way.  As a HUGE fan of the 4th hour quirky, mimosa & headlines inspired show, I've always...
13 tags
Interview with Fashion Illustrator Jennifer Lilya
 Professional Fashion Illustrator Jennifer Lilya at home in her gorgeous NYC art studio. You've seen her fabulous illustrations in Elle Magazine, WWD, Edelman/T.J. Maxx/Marshalls, for Katy Perry, Dolce & Gabbana, STILA Cosmetics & More! Find out how this beautiful blonde dancing Queen is kickin butt in the fashion industry & sketchin' names…  Five Quick Stats with...
6 tags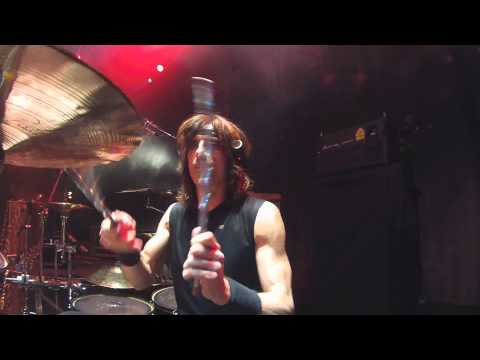 21 tags
Interview with Yogi Lonich
Photo by Sean Ryan Smith from http://www.yogimusic.com Genius is a term losing merit in the music industry..it's overuse has become as generic as the word denim when explaining a pair of blue jeans. However, every now & again it firmly nails itself into a description with dead on accuracy. Such is the case of accolades written time & time again about guitarist, performing artist,...
13 tags
Interview with The Bass Man: MATT BISSONETTE
Matt Bissonette is a name synonymous with TOP SESSION PLAYER followed quickly by the term: DYNAMIC TALENT. Matt's list of album credits include names like The Kingston Trio, Ringo Starr, Don Henley, Joe Satriani, Rick Springfield, Brian Wilson, ELO, Steve Perry, Peter Frampton, Lita Ford & David Lee Roth among many others. Recording artist, writer, producer & consummate...
28 tags
Interview with Multi-Platinum Producer & Writer...
He's the producer of infectious melodies like "Boom Boom Pow" by The Black Eyed Peas & the writer of songs that hook your cerebellum so hard you can't get'em outta your head no matter how hard you try. Ever hear "Get your hands up" by The Dutchess herself first thing in the morning & then finally stop humming it sometime around 8pm? Ok Yeh, only...
17 tags
Interview with MAROON 5 Video Director & Phenom...
If you happened to catch a glimpse of filmmaker Travis Schneider from across a packed Hollywood venue, your initial thought process would probably go something like  "James Dean incarnate, actor, model, beautiful face in the sea of angels"  In which case you might be more than just a little surprised to learn that Travis Schneider spends more of his time behind a camera than in front...
7 tags
Interview with Lucy Danziger, co-author of The...
               Lucy Danziger SELF Magazine Red Carpet Author, motivational speaker, SELF Magazine Editor-in-Chief; Lucy Danziger may not wear a red cape or leap across tall buildings, but she is every bit a Super Woman Hero whose SELF awareness for All magnetic mantra is as contagious as her positive energy.  I was beyond honored to share some Q & A time with the beautiful upbeat blonde...
23 tags
Interview with Philip Tan
Philip Tan has mixed and/or recorded 23 singles which have reached number ONE on Billboard's Hot 100 charts.  Some of the artists upon his list of credits include: Rihanna, Mariah Carey, Gwen Stefani, Jay-Z, Jennifer Hudson, Janet Jackson, Ne-Yo, Leona Lewis, Snoop Dogg, Usher, Corinne Bailey Rae, Enrique Iglesias, Ciara, Alicia Keys, Jermaine Dupri, Outkast, Aretha Franklin, Nelly..Ok...
7 tags
Interview with Elliot Scheiner
photo of Elliot Scheiner from Grammy.com 2011 MusiCares Person of the Year award honoring Barbra Streisand 23 Grammy nominations, 6 wins, 4 Emmy noms & a win with the Eagles. An honorary Doctorate of Music from Berklee College of Music & I'm just getting warmed up! Elliot Scheiner is a Legendary WOW factor producing & engineering some of the most talented artists of the last 4...
9 tags
Interview with Tim Nordwind of OK GO
Tim Nordwind of OK GO is the highly recognizable & entertainingly definable bassist for Chicago rock band OK GO.  His look definitely falls into the standout category. However, watching Tim in action,  you quickly realize the true standout of Tim Nordwind has little to do with his chic style & much more to do with the multi-talents behind those thick dark rimmed glasses. Having just...
10 tags
Interview with Ricky Sans of MELEE
Rock band MELEE is burning up the iTunes chart with their latest album, The Masquerade & although I've been a fan for many years, I am rediscovering just why I fell in love with this band in the first place.  MELEE has a way of sinking a pop hook deeply into your being…so deep in fact that you may wakeup dancing your way out of a MELEE  dreamstate in the mornings.  Not a bad way...
9 tags
Interview with Anthony J Resta
Weaving together pieces of obscure samples from vinyl with twisted vintage analog synth sounds; melding them seamlessly into an artist's live performance… Sound complicated?  Nah, it's just all in  a day's work for producer  Anthony J Resta. Join me for a peak inside the eclectic mind Of Ajax Rayovac,  the musical maestro who brought to LIFE  "sci fi mambo liquid...
9 tags
Interview with David Bendeth
Music producer David Bendeth is known for being extraordinarily BUSY.  The kind of Busy that pumps out numerous records every year without pause.  It just so happens that many of those records have a habit of turning into PLATINUM selling Grammy nominated Chart Topping style albums.  Having started his career as a songwriter & performer, his 1980  UK Dance hit "Feel The Real"...
11 tags
Interview with Ruwanga Samath
Sri Lankan born producer/composer, Ruwanga Samath is making noise in the LA music scene with his Bird Call Productions & a no-boundaries attitude.  I caught up with him for a few minutes of Q & A along his busy pathway to Global Domination. Read on to find out what keeps The Bird Call motivated & how food may very well be the answer to World Peace…. Five Quick Stats Best makeout...
9 tags
Interview with Sam Hollander
He's 50% of the songwriting/ production team S*A*M* & SLUGGO but he's 100% The Hollander.  Co-writing & producing songs for artists such as Katy Perry, Train,  Boys Like Girls, Gym Class Heroes, Kelly Rowland, Cobra Starship & more …he's no stranger to the term  Certified HIT. I recently had the opportunity to visit with him about his monstrous success as well...
8 tags
Interview with Ron Saint Germain
Ron Saint Germain at home with a few of his Gold & Platinum Creations…   1. Breakdance or The Tango? Breakdance through life! Think it's the most original, creative & exciting form of dance in the last Century! Tango (as in, "it takes two to..") in THOSE moments. 2. Plaid or Argyle? Neither, but if I MUST choose between them, Plaid. 3. favorite pair of shoes or bare feet? Stilts or...
5 tags
Interview with Cindy Blackman
Cindy Blackman is the Chic Drumstress surreal. Known for her jazz mastery & versatile style, she has held the backbeat for artists such as Lenny Kravitz, Jackie McLean, Joe Henderson, Don Pullen, Hugh Masekela, Pharaoh Sanders, Sam Rivers, Cassandra Wilson, Angela Bofill, Bill Laswell & Buckethead.  Touted as one of the hottest drummers in the business as well as one of the Greatest...
4 tags
Interview with Matt Chamberlain
Displaying his drumming madness on the albums of Tori Amos, Morrissey, Fiona Apple, Critters Buggin, Dido, Sean Lennon, The Master Musicians of Jajouka, Robert Fripp,Sara Bareilles, Jon Brion, David Torn, Indigo Girls, Weapon of Choice,Macy Gray, Stone Gossard,Christian McBride, Edie Brickell & New Bohemians, Tim and Neil Finn, David Bowie, Elton John, Peter Gabriel, The Wallflowers, Natalie...
9 tags
Interview with Jaron & The Long Road to Love
"I Pray For You" is currently burning it's way up the Country Charts & Jaron Lowenstein's gift of tongue-in-cheek humor is bringin' the Heat.  Quick witted & immensely talented, you may remember when Jaron & his twin brother Evan were "crazy for this girl", but Jaron & The Long Road to Love are currently finding success with a little less...
4 tags
Interview with Rami Jaffee of Foofighters
Rami Jaffee embodies that sort of laid back California vibe that puts you instantly at east.  A mixx of calm assurance & redic cool without an ounce of that pesky pretentiousness.  Yeh, let's just say Rami is not your typical Hollywood Rockstar.  And, ok so I might be one of the biggest Foofighter fanatics of all time, seriously, I'm an official cardholder.  One can only imagine...